Group Photo Sharing With Kodak Gallery App
Download of the Day: Kodak Gallery For Group Photo Sharing
I'd have a beautiful collection of photos from every family get-together or Summer vacation if only I could get my hands on all the pics hiding out on the cameras and iPhones of those in attendance of these memorable events. What to do? Download the free Kodak Gallery app, which allows one person to create a photo album and invite select people to add their photos to the collection.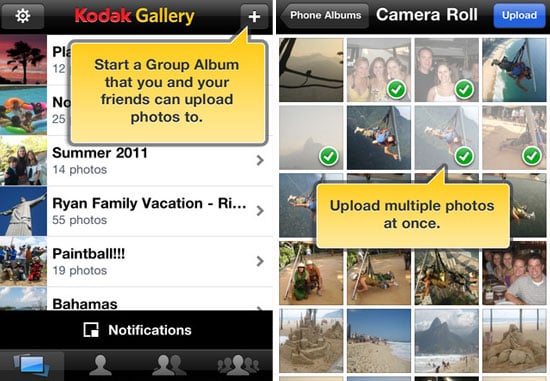 Photo contributors to Kodak Gallery don't have to create an account to add to the gallery — phew! — so no new log-in needed. Invite these contributors by email, text, Facebook message, or dozens of other social networks, and they'll be sent a link to the online album. If the contributor also downloaded the iPhone app, they can add photos directly from their phone to the Kodak gallery. Only those invited to an album can see the photos, so there won't be friends of friends of friends seeing how much fun was had on that recent Las Vegas trip.
Like the features we've become used to on sites like Facebook, album users can like and comment on photos. The feature I'll be using the most for the holidays is downloading full-resolution size of photos I had never been able to get my hands on before the group sharing to create custom gifts directly within the Kodak website.