GroupMe Group Chatting App
Download of the Day: GroupMe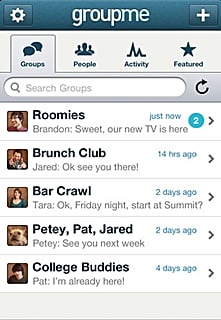 Perhaps the biggest trend to come out of this year's SXSW Interactive: group messaging services. One such option, Beluga was recently snapped up by Facebook. Another, GroupMe, was the clear favorite during the Austin event.
GroupMe allows you to talk to multiple friends or contacts at once, share photos, or conference call across a group of people. You can even use the app to geo-locate yourself and share your location with friends. To get started, download the appropriate app or use the GroupMe website to enter your name and number. Then, enter names and numbers of friends or contacts — search using your phone's contacts, Twitter, or Facebook.
Download GroupMe free for iPhone, Android, and BlackBerry. It also works on any phone with text messaging capabilities.