First, a disclaimer: I don't advocate actual stalking or sketchy behavior on Facebook, but since the site undoubtedly provides a wealth of information on just about anyone, it's sometimes hard for any wondering mind to stay away from the search bar. As someone who is intimately familiar with Facebook searches (and potential gaffes), here are a few things to keep in mind when you just can't resist a little information digging: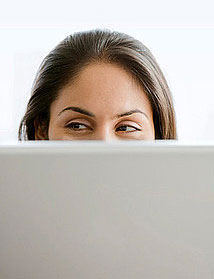 Unfriend your ex. I know, you want to stay friends, but you can always re-friend each other when you get to that stage. Seriously, do it. The last thing you need after a breakup is a bunch of status updates and photos of your ex with someone new (and we all know those Facebook photos can make imaginations run wild). It just isn't worth it.
Watch what you bring up in person. If you're keeping tabs on friends-of-friends, you'll probably find out information you wouldn't have under normal circumstances. So be careful what you reference — bringing up that random Facebook post or photo could give you away.
For the rest of my tips, keep reading.
And one final "stalker" tip (this may be my favorite!):
If you just have to send a friend that photo of her ex, your ex (or anyone on Facebook) but she doesn't have access to view the page, here's how to do it: Using Firefox, right click on the photo and select "Copy Image Location." Then paste the link (it'll be a long one) into your message to a friend. When they click on the link, they'll see only the photo, no comments or tags. Works like a charm. Not that I've, uh, tried it or anything.