Having now added tech entrepreneur to her accomplishments with the lifestyle website goop and its accompanying travel guide apps, Gwyneth Paltrow was right at home during an Apple Store Meet the Developer panel in New York City last night. We had a chance to talk with the Iron Man 3 star about the gadgets in her carry-on, her favorite iPad games to play with the kids, and the eternal question: text or call?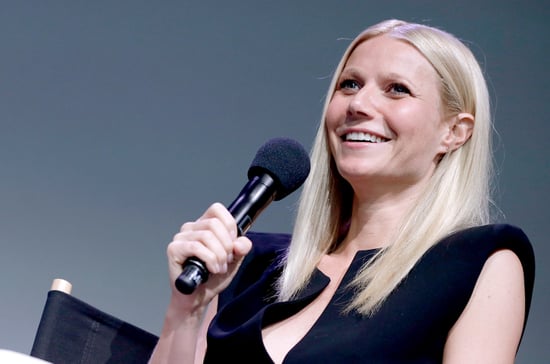 POPSUGAR: Why did you want to get into this travel app business?
Gwyneth Paltrow: It was a natural extension of what we do at goop anyway, which is curation basically. I love food; I love to travel; I'm a very curious person. I was always the person my friends call and say, "I'm going to New York, where should I do this? I'm going to Paris" . . . whatever. I was always that person. I had books everywhere of things that I loved in various cities and I just thought, "I would love to have it for myself." I started working on the content and I love having a place to go to where it's places that I love and doctors that are amazing, just all that useful information. When I moved to England, for example, I didn't know that if you have an emergency, you don't dial 911. All that stuff. Anything you would need as a traveler.
PS: We're in the Apple store — are you a texter or a good old-fashioned phone call?
GP: I've become a texter. I find it so quick. It's also made phone calls a lot more special. I do text more than I call, for sure. Now a phone call is a real thing — it's like, "Are you available to talk?" It's not like it used to be.
PS: When you travel, what are your must-take travel gadgets?
GP: iPhone and iPad, for sure. I love my iPad mini: I've got all my books on there, TV shows — I think that thing is a genius. And my Bose noise-cancelling headphones.
Discover the iPad games Gwyneth plays with her kids and the "girl porn" social network after the jump.
PS: In terms of apps that you like to play with your kids, do you find that the iPad mini is great for entertaining?
GP: You have to be careful with it, though, because they'll just do it forever. When you're flying, it's the greatest thing in the world, but sometimes I'm like, "OK, we have to limit the time now." They're always finding [new apps]. . . . There's a truth or dare game. They're really obsessed with Rat on a Skateboard and Rat on a Jet Ski — there are all these rat-on-a-thing [games]. Things I would not know about. Apps to make a music video. They are super technological, way more than I am. "Oh, mom, you just press this."
PS: In addition to your iPhone apps, how else have you used technology to streamline your business?
GP: Video conferencing is very helpful. Things like PowerPoint, Excel — I think PowerPoints are amazing for getting a vision across. I use Pinterest a lot as well. I'm always creating boards for inspiration or ideas. It's very rich. I think Pinterest is amazing — it's very hard to stop. It's weird. It's girl porn or something. You can't put it down.
PS: Aside from tech stuff, when you're traveling, what's the one thing you always take?
GP: I always take my packet, passport, earplugs, eye mask, vitamin C, colloidal silver to spray to keep germs away — my travel pack.
— Additional reporting by Allie Merriam
align=right>