HEX Sport Watch Band With Nike Plus Compatability
Nike Plus Users: Check Out the New HEX Sport Watch Band For iPod Nano
Almost as soon as the newest iPod Nano was announced, manufacturers scrambled to capitalize on both its shape and clock feature by creating a ton of watch band straps for the device. The newest of these products, the HEX Sport Watch Band, is made for working out — in addition to complete protection for your Nano, the band provides a port for your Nike Plus.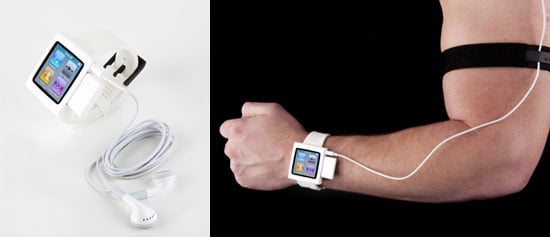 Available in April (colors and pricing will be announced then), the band features a "pop in, pop out" design for the Nano. Integrated control buttons give the user complete control, and the entire band is made from perforated premium silicone for breathability and comfort. And similar to the Speck TimeToRock strap that I love so much, the HEX Sport Watch Band also has a second band that keeps the cord from getting in the way.
Nike Plus is a simple way to enhance your workout. A sensor plugs into the iPod, and another sensor in your shoe communicates to motivate you while recording your progress. And since the iPod Nano is perfect for runners, I can't wait to give it a try.