HP Chromebook 11 Preorder
HP Chromebook 11: Low Price, Minimal Frills
The HP Chromebook 11 ($280 with WiFi), which was developed in close collaboration with Google, is an ultraportable laptop at an ultra-affordable price. Starting today, the laptop is accepting preorders on Amazon (ships Oct. 20) and Google Play (ships Oct. 11).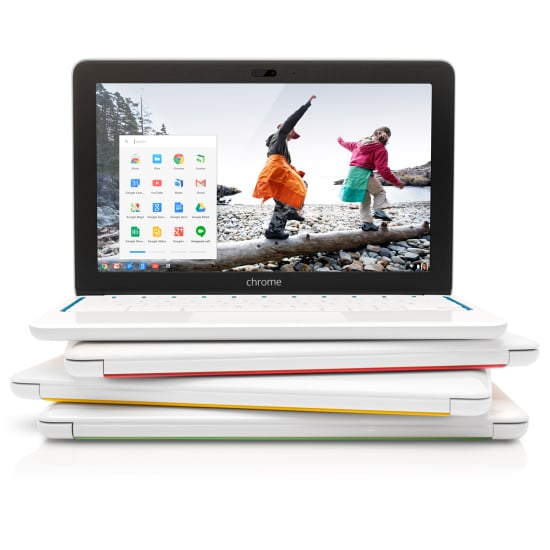 The new cloud-based Chrome OS laptop sports white hardware made of a plastic shell and magnesium chassis reminiscent of the original MacBook. Bright Google-themed accents frame the keyboard and add a touch of color to the laptop's hinge. The 11.6-inch screen boasts a 176-degree viewing angle and high-resolution 1366x768 display (on par with the MacBook Air of the same size).
On the left side, the HP Chromebook 11 features a micro USB charging port, which means that users can power their Chromebook with the same adapter as their phones, tablets, and digital cameras. With only six hours of battery life, the laptop's USB charging capability is a necessity. A portable charger like iGo's PowersTrip will definitely come in handy. For now, the HP Chromebook 11 is only available in a WiFi version. The 3G and 4G/LTE models are due to arrive soon.
Since Chromebooks are light on hardware and rely on a cloud-based operating system, they're ultra-affordable and available at a price point that's lower than an iPad Mini's. Chromebooks claim they offer "everything you need in one laptop," which is true, as long as those things you need are available in the Chrome app store.
Specs at a Glance
Display — 11.6-inch screen at 1366x769
Ports — 2 USB 2.0; SIM slot (3G and 4G/LTE model only)
Camera — VGA front-facing webcam
Size — 297x192x17.6 mm
Weight — 2.3 lb./1.04 kg
Processor — Exynos 5250 GAIA ARM Processor
Memory — 2GB RAM; 16GB Solid State Drive
Battery — 6 hours of active use
Extras — 100GB Google Drive cloud storage, free for two years; 12 free sessions of GoGo Inflight Internet; 60-day free trial with Google Play Music All Access and $10/month pricing after that