HP Slate Tablet Details
HP Slate Gets Official, Priced at $800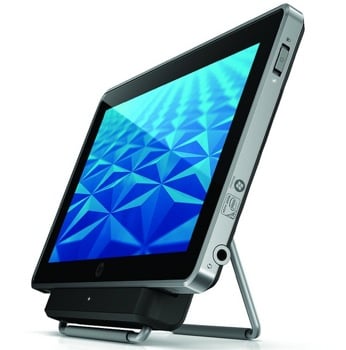 It's been a while since we've heard from the HP Slate, but you guys were pretty pumped about it after the last ad battle between it and the iPad back in March. Flash forward to today: the Slate 500 finally shows up on HP's website with full specs and a price tag — $800. HP is quick to point out, however, that the Slate is intended for business users, ones who are Windows devotees and would like to run custom corporate applications.
The Slate weighs in at 1.5 pounds and comes with an 8.9-inch LED-backlit multitouch display, a digital pen, and Evernote software so you can handwrite emails instead of fumbling around with a touchscreen keyboard. Additionally, there are two cameras on the Slate — a forward-facing VGA and rear-facing 3MP, along with one USB 2.0 port and headphone jack. Hook up your Slate to the included dock and get two more USB 2.0 ports, an SD card slot, and HDMI to stream videos to your HDTVs.
Want to know what's on the inside and when you can pick one up? Then just keep reading.
The HP Slate comes with 64GB of internal memory, 1.86Ghz processor, 2GB of RAM, Wireless-N, and Windows 7 Professional installed. The price of $800 includes the Slate, pen, and dock, and it will launch in the US before expanding to other countries. Unfortunately, we don't know when exactly that will be, so stay tuned!