HP's Vivienne Tam Butterfly Lovers Netbook Launches Mar. 19, Presale Starts Today
HP Taking Orders For Vivienne Tam Netbook, Launches Mar. 19
We first saw the second-edition Vivienne Tam HP Mini netbook on the runway last year at Fashion Week, but you'll finally be able to pick one up for yourself this month! The limited edition Butterfly Lovers HP Mini 210 is ready for pre-orders starting today and will be flying onto shelves beginning Mar. 19 with a $600 price tag. There's a few matching accessories you can snatch up as well, like the wireless mouse seen here ($40, also available Mar. 19), along with the Vivienne Tam Monster headphones ($200), which debuted in NYC last month.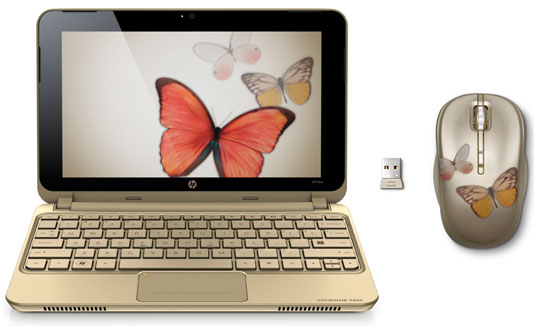 We already know that the outside is a work of art but want to know what's running on the inside? Find out, and see more images when you
.
The Butterfly Lovers netbook is perfect for your mobile life, weighing in at just 2.7 pounds, and coming with HP Mini 210 innards: a 10.1 inch LED widescreen display, 5.5 hours of battery life, up to a 320GB hard drive, and 2GB of memory on a Windows 7 OS. Plus, it's fitted with the signature HP Mini keyboard (which is 93 percent the size of a normal QWERTY), and a VGA webcam that turns into a mirror at the push of a button so you can freshen up on the fly. Additionally, Butterfly lovers will get to play around with Monster's Beats Audio software, which we saw first on the Envy 15 model last year.
You can pre-order your designer Mini today online or take your chances and wait until Mar. 19 to grab yours at Amazon, Neiman Marcus, or Best Buy!