HTC Aria Details
Pocket-Portable HTC Aria Coming Next Week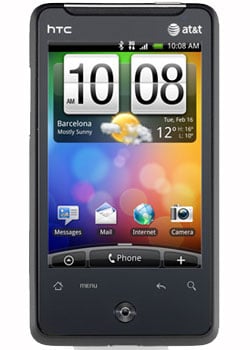 HTC has a good thing going already in the Incredible, EVO, and HD2, and will be adding on to that impressive lineup next week when the HTC Aria hits AT&T on June 20. Portable at just 4.2-inches high, the Aria balances work and play with Android 2.1's operating system, and keeps you on top of Twitter, Facebook, and all your friends' status updates with HTC Sense's Friend Feed.
Stocked with a crisp 3.2-inch HVGA touchscreen display, 2GB of on-board memory (expandable up to 32GB microSD), 5MP camera with LED flash, and six hours of talk time, the Aria could take the place of your other, heftier smartphone that's weighing down your bag now.
But there's another really fun feature worth hearing about. Find out what it is, along with pricing details after the break.
The Aria features "custom scenes" which allow you to change your phone's look for different activities. Set a flashy, flirty backdrop when you're off the clock, and customize a more subdued skin for the office. Each scene can be set to activate at certain times, so your phone can change its look as often as you do! The HTC Aria is available on June 20 through AT&T for $130 after a $100 mail-in rebate.