HTC Status Facebook Phone Details
HTC Status Gets Official, Coming to AT&T This Summer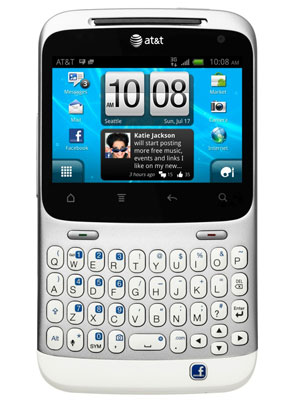 HTC officially announced the HTC Status (aka. "the Facebook phone"), which is headed for AT&T this Summer. Running Android 2.3 and coming with a 2.6-inch touchscreen, the Status has yet to be priced, but the phone already has its own Facebook page. Appropriate, since this phone has Facebook integrated into its bones.
Coming with a button that connects you directly to Facebook in a flash, you can instantly share a wide range of items, as well as see what your friends are up to with just a touch. Some examples of things you can do just by pressing the Facebook Share button include:
Start and maintain multiple private Facebook chat sessions.
Instantly post a status update from the phone's home screen on your wall or a friend's wall.
Take a photo, then press the share button to instantly post on your wall or to an album.
Check in on Facebook Places/
Share stories you find on the Internet: from the webpage, you can click the share button and instantly post to your wall.
Share the info on the music track you're listening to right from the music player when you press the Facebook share button.
Other awesome features coming with the HTC Status include lock-screen shortcuts (drag your favorite apps or features into the lock screen "ring"), two cameras — 5MP rear-facing with autofocus and VGA forward-facing — with built-in camera effects. Stay tuned for exact launch date and pricing info, but until then tell me — does an integrated Facebook button make the HTC Status more appealing?