Hacker Girl Character in Jurassic Park
How Hacker Lex Outshines the Dinosaurs in Jurassic Park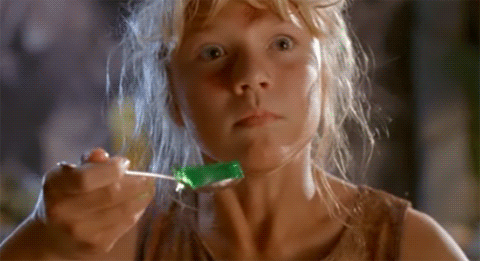 T-Rex, with your tiny arms in proportion to your body, step aside; you're not the star of Jurassic Park. That title goes to Lex Murphy, the granddaughter of park creator John Hammond. She may have started the film as a scaredy cat, but Lex triumphs in the end to save the day with her early '90s computing skills.
Not only does she fight off a T-Rex from eating herself and her brother in the Jeep (even though she kind of brought his attention to them in the first place with the flashlight), she also outwits a pair of annoying raptors in the theme park's kitchen, like any responsible big sister would. Naturally, our favorite scenes with Lex also include some of the film's best lines, with her enthusiasm for 1993 technology, made all that much better — and cheesier — with a 2013 ear.
You may have had Encyclopedia Britannica on your family's first home computer, but Lex recognized the awesomeness that is the Jurassic Park jeep's interactive CD-ROM. But nothing is as BA as her using her hacking skills ("It's a Unix system!") to reprogram the park's security system before hungry dinosaurs can barrel through an unlocked door and make all the group's running through the night and rain for naught.
So, Lex, thanks for being a Geek We Love and showing the world that being a hacker nerd is how you get things done when a theme park of rageful, starving dinosaurs goes into emergency lockdown.