Handmade LittleBigPlanet Sackboy Avatar
LittleBigPlanet Fan Brings Sackboy Avatar to Life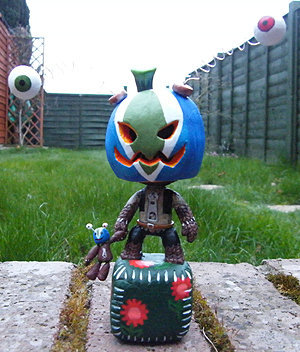 We've all been aching to get our hands on a real-life LittleBigPlanet Sackboy ever since the game hit the PS3, and although you can find some pretty great replicas on sites like Etsy, you can't get a custom LBP avatar. Trust me, I've looked.
It's this dilemma that sent LBP fan and Media Molecule forum poster, TeaBaG, on a mission to create his own avatar from scratch. His customized pumpkin head real-life Sackboy looks identical to the one he created in the game. To see some before and after pics, and to find out what materials he used to make his avatar, just read more.
TeaBaG used molding clay, some paint, and a lot of patience to bring his Sackboy avatar to life. He says:
During the obligatory Christmas family visit last year, a member of my family was given a WoW figure. It turns out that this figure was a replica of their in game avatar and that there is a company out there that will create your character from the in game 3D models. Creating this model was fairly easy for this company as they have access to the original 3D model and textures. I instantly thought that this would be great for LBP avatars considering the amount of customisation you have. I had a quick scan on the Internet to see if there was a company who would do the same for my LBP avatar, but nothing turned up. I guess this is because you can't get access to the 3D models. So I decided to buy some modelling clay, get out my paints, and create it myself.
Amazing! Check out more photos on his forum post, and tell me — does this inspire you to create your own DIY video game avatar?