Handwritten Card Apps
Digital "Handwritten" Cards That Would Fool Emily Post
Who says sending handwritten notes is a lost cause? Times may be a-changin', but so are our options for delivering a card via snail mail. Today you can send your love straight from your smartphone, iPad, or computer, all thanks to practical apps and websites. You don't ever actually have to pick up a pen to send a thoughtful "handwritten note." Read on to find out how to make your life easier the next time all those birthdays, graduations, and anniversaries roll around.
Felt Cards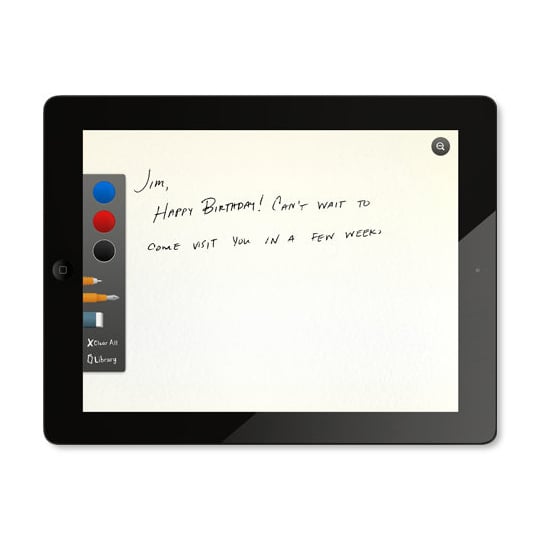 The Felt Cards iPad app (free) lets your finger, or a stylus, do the talking. Here's the process: choose an original card design, select an ink color, and write your message on your iPad. You can also write out the addresses on the envelope to complete the authenticity. Felt then prints and mails it, all for the cost of $4. Does it get any easier than that?
Postable
Because it features a digital address book that loved ones can fill out, Postable can be your one-stop shop for sending handwritten notes. Keep in mind that the site only offers thank you cards, but you won't be disappointed — the designs are fun and unique. Choose from realistic handwriting fonts to write your message, and the company will then stamp and mail the note out. All cards cost $2 plus the price of the stamp.
Discover more digitally "handwritten" options after the break.
Thank You Pen

This is one pretty successful case of faking it. The Thank You Pen app (free) lets you choose from a collection of greeting cards and enter the message that you want to send. A computer prints the words onto the card, but it actually looks like a person took the time to write it. Really! Just be careful trying to pass this off with someone who knows your handwriting well since it's not customized. It costs $2 to send a note anywhere in the US, and it even comes with the option to include a gift card.
Inkly Cards

All you need for this service is a good old-fashioned pen and paper and to download the Inkly Cards app (free). The concept is straightforward: just write your note on a piece of paper and snap a photo of it with your phone. The app takes only your handwriting and places it on the inside of a card of your choosing. Enter the name and address of the recipient, your payment details, and just like magic, your handwritten card is printed and mailed anywhere in the world.