Hapifork | Diet Fork
A High-Tech Fork That Tells You to Slow Down: Intrigued or Bewildered?
Dieting isn't easy, and Hapilabs' Hapifork ($99), a high-tech utensil that reminds anxious eaters to slow down, is determined to guide dieters to long-term weight-loss success. The smart fork made a ton of buzz at this year's CES, and we're wondering if this is just another wacky electronic or an effective solution to curb weight gain.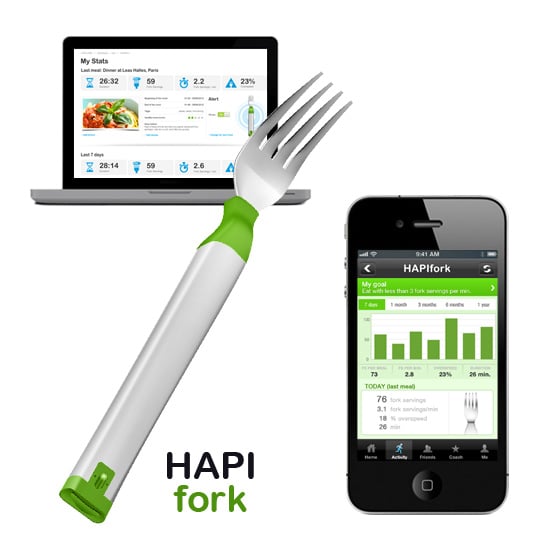 Eating too fast can lead to overeating, because it takes 20 minutes to register feelings of fullness, which is why Hapifork encourages dieters to slow down between fork servings. Blinking lights and gentle vibrations indicate that the amount of fork servings per minute is too high.
Hapifork uses capacitive detection and a microchip to coach dieters through healthy habits and tracks progress using a desktop or smartphone application. A micro USB cable uploads information from the fork to the Hapilab online dashboard so that those watching their weight can visualize exactly how long it took to eat the meal, the amount of fork servings per minute, and the interval between fork servings.
So what do you think: is Hapifork another gimmicky weight-loss tool, or will the high-tech fork be the diet coach of the future?