Have You Ever Given Up a Phone?
He's a Droid, I'm an iPhone: Does This Mean I Win?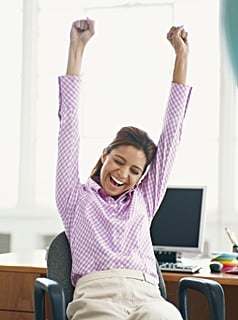 I've always been an iPhone girl, but my guy is all about his Droid. At least, he has been until now. A series of dropped calls, malfunctions, and even a Verizon-issued replacement Droid has him thinking about saying goodbye.
To be fair, I know a number of people who are extremely happy with their Droids. I, for one, love the Android OS. It's full of useful features and apps, and hands-down has a superior camera. A few months ago, though, his Droid started getting incredibly slow. Whether he was checking text messages, trying to send email, or trying to make a call, the phone took forever to catch up. He contacted Verizon to report the problems, and they immediately sent a replacement phone (point Verizon). But now the replacement phone is having the same issues, and he can't stop thinking about the BlackBerry he left behind. I'm pulling for him to switch to the Droid Incredible when it launches in just over a week; since it runs the same software, it won't carry too much of a learning curve, and I'm pretty sure he'll dig the sleek and slim design.
I can't help wanting to tease him, though. The Droid is a perfectly capable and powerful phone, but it doesn't seem to be his match. So does this mean the iPhone wins? I've been so pleased with my iPhone from day one, so I can't imagine wanting to give it up.
Have you ever had to give up on a phone that just wasn't working out for you?