Headphone Hearing Damage Study
New Study: Headphones Cause Less Hearing Damage Than Thought
If you worry about cell phones and headphones damaging your hearing, you're not alone; most of you do. And while no one can argue that blasting an iPod at full volume is good for your hearing, a new study from the University of Minnesota finds that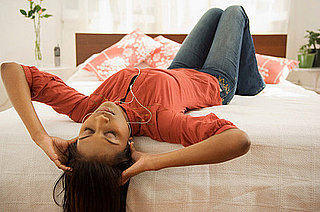 the instances of teens experiencing hearing loss may be lower than previously thought. According to the results, the current methods of testing produce false positives when testing for hearing loss in children and teens, and almost 10 percent are falsely diagnosed with slight levels of hearing loss.
Find out more, including how to limit your device's volume, after the break.
While the study does focus on false-positive diagnoses, its authors also note that teens who listen to loud music on their headphones are susceptible to hearing loss, so don't interpret the findings as a chance to turn up the volume. This latest study only asserts that reported numbers of children experiencing loss are lower than previously reported.
If you're an iPhone or iPod user, you can limit your device's volume in the Settings menu under "Volume Limit," and many other devices offer similar functionality. According to the study's lead researcher, "The damage may build up over time and not appear until a person is older. For all sounds, the risk increases the more intense the sound and the longer the exposure, particularly from sustained or continuous sounds."