Health Month Fitness Game
Having Trouble Staying Motivated? Turn It Into a Game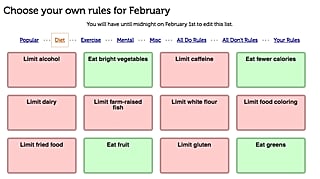 Whether your fitness goals are simple or lofty, when faced with temptation it's easy to slip up a bit in the heat of the moment. Enter Health Month, an online way to keep track of your fitness progress that ups the ante by turning it into a game. Here's how it works:
Upon signing up, players choose rules to follow for the duration of the month. Choose from suggestions like, "limit caffeine," "drink enough water," and "limit soda." You're then prompted for more detail. For example, after choosing "drink enough water," you're prompted to disclose how much you drink, how much you want to drink in the upcoming month, how difficult you think it's going to be, and how important the rule is to your overall goal. Following your rules nets you "life points," breaking them takes points away.
Find out more about the game after the break.
While the game consists of dos and don'ts, it has a decidedly positive spin; you're rewarded for good behavior but not chastised for slipping up (though you will have to endure the sting of lost points). A daily scorecard keeps you motivated to stick to your goals, and at the end of the month you can check out a comprehensive roundup of your progress, complete with letter grades. You can even compete on a "team" of friends.
There are plenty of other nuances to Health Month that keep you going, and for someone with a competitive streak when it comes to gaming (but not so much for eating your vegetables), it's an excellent resource. The game works best when you play a full month from the beginning, but you are able to join the game midmonth if you'd like.