Heart Headphone Splitter For Couples in Love
Heart Headphone Splitter: Totally Geeky or Geek Chic?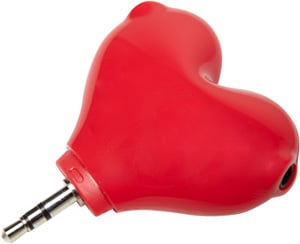 In theory, the Tunes For 2 Headphone Splitter from Fred Flare is cute. It plugs into the top of your MP3 player (or any other gadget with a headphone jack) to split two pairs of headphones so you and a loved one can listen to the same music, soundtrack, audio book, whatever. The only thing I can't decide is whether seeing a cute couple sharing this bright red headphone splitter on the bus would be totally cringe-worthy. What do you think?