Hello Vino Wine iPhone App
Download of the Day: Hello Vino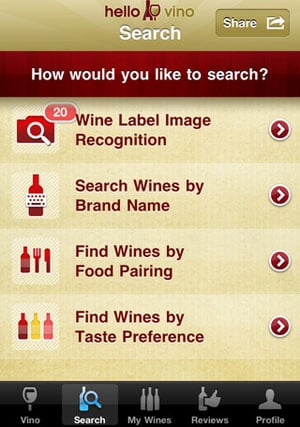 Once dinner's been decided on, the hardest part of any special occasion meal may very well be the wine pairing. Does seafood go with reds? What sort of entrée pairs well with champagne? Enter Hello Vino, a free iOS and Android app for your oenological questions.
Hello Vino helps to choose a wine based on a specific dish, occasion, grape flavor, or region. Knowing we can't all be wine connoisseurs, the app is packed with an encyclopedia's worth of wine knowledge, even including the pronunciation of wine varietals.
A feature that's guaranteed to come in handy when faced with an intimidating aisle full of seemingly identical wine bottles is Hello Vino's label recognition technology. Take a photo of a bottle's label within the app, and it will provide all the hidden information needed to make a selection including tasting notes, ratings, and food pairings. Save a note about the particular wine for later if you aren't ready to purchase a bottle. No more choosing a bottle based on the best label!