HelvetiNote Notepad App For iPad
Download of the Day: HelvetiNote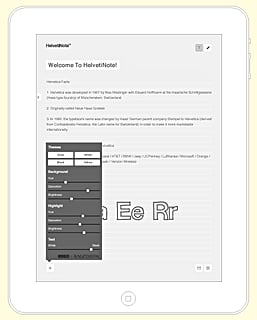 The Notes app for iPhone and iPad is super-handy; it provides a quick place to jot down names, addresses, random thoughts, or any other information that doesn't have a home of its own. What's not to love about the Notes app: its lack of customization. You're stuck with the yellow and blue notepad with Marker Felt font. An app called HelvetiNote ($3) attempts to change that.
The app's website URL is deathtomarkerfelt.com, so its aim is pretty clear! HelvetiNote allows users to take notes on their iPads in similar fashion to the included Notes app — except in classy, clear Helvetica font on a customizable background. Change the hue, saturation, and brightness — even font color! You can also view all of your notes in a list on the left side of the page. Plus, there's a sketch mode that turns your iPad into a sketch pad, allowing you to draw with your finger in any note.
Have you found a cool download-worthy treasure you'd like to share with the rest of us? Join the Download of the Day group, where you can submit your favorite apps, downloads, and widgets. Your post could be featured on GeekSugar!