After visiting a new city, travelers quickly realize that it's not the iconic landmarks that make the most lasting impressions — it's the little details. Like how Italians bid each other "grazie mille" (one-thousand thanks) or how brilliantly colored saris fill the streets of India.
These snippets of stories paint a larger picture of a city, a culture, and a country, and a new social platform called Hi! is bringing together these smaller pieces to create a "narrative map of the world."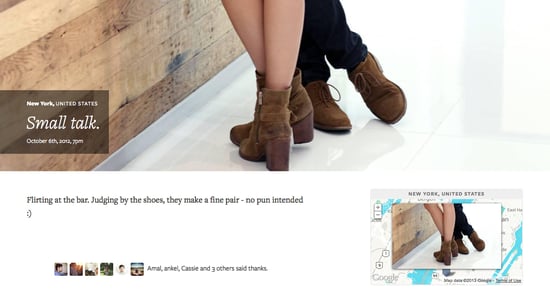 A graph of 20 words or fewer, with or without a photo, is attached to a location. This is called a "moment." Each moment has its own page, like this flirtatious sketch above (click for more detail), and on that page is the option to extend the moment to 10,000 or even 100,000 words.

Hi! offers its users the opportunity to build a story from their moments. The idea of going back to a post, updating it, revising it, and expanding it is certainly a fresh take on social media. Neither Facebook nor Twitter allows users to return to their posts — once it's in cyberspace and published, it's done.
Hi! wants to "encourage the habit of seeing," which is to say, to observing and noting things. Cybercitizens have grown accustomed to observing the world through a square-shaped, filtered Instagram image. This social network encourages its users to look beyond the pretty picture and find the story of a place. All of these moments are collected and plotted on a map for all to see. This network of storytellers captures not only the visuals, but also the sentiment of a particular part of the world.
Sign up for Hi! at sayhi.co/register. It may take a little while to receive an invite, but you can browse moments in over 640 active cities in the meanwhile.