Hide Facebook at Work With ExcellBook
ExcellBook, the Undercover Facebook
If the boss balks at Facebook use during work hours, have we got an app for you. In a clever tech take on its Be Stupid advertising campaign, Diesel (as in the jeans brand) created ExcellBook, an app that filters your Facebook account into an office-friendly spreadsheet.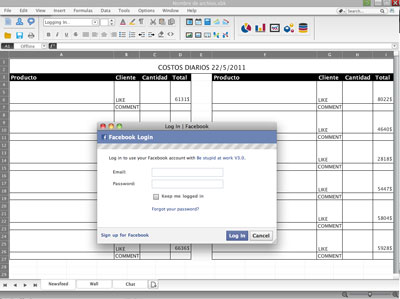 ExcellBook won't work if your IT department completely blocks Facebook, as it must connect with the site to log in to your account. Once signed in, your news feed is visible in spreadsheet rows. Most functionality is still available within the disguised app including the news feed, status updates, Like buttons, comments, and chat. If social media is a major faux pas in the office, steer clear of viewing photos, as that links back to the Facebook browser interface.
We received error messages on the first two log-in attempts, but by the third log-in, we were in and commenting on updates, er, working on reports.
Click through to view the "Be Stupid at Work" video for total workday rebellion.