High-Altitude Space Jump Facts
[UPDATED] Why Felix Baumgartner's High-Altitude Jump Is Breathtaking
UPDATE: After high winds at the Roswell, NM jump site sidelined Felix Baumgartner's high-altitude jump from the edges of Earth, the jump is set again for Sunday, Oct. 14 at 5 a.m PDT/8 a.m. EDT.
Austrian skydiver Felix Baumgartner is about to make a record-breaking jump from the edge of . . . space. After taking a stratospheric balloon flight to more than 120,000 feet in the air, Felix is set to take the plunge this morning at 10 a.m. PDT/1 p.m. EDT and become the first man to break the speed of sound in free fall, reaching an estimated 690 miles per hour.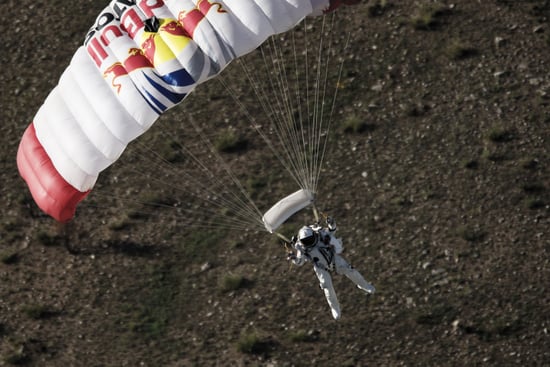 To put things into perspective, spy planes climb up to only 85,000 feet in the air, and Felix will travel far beyond that. He'll be in free fall for over five minutes (!) and test the limits of the human body breaking the speed of sound. Since he will be the first to do so, there's a lot on the line. But Felix is testing a new space suit designed to withstand extreme conditions and a new parachute to break his fall — not to mention gather valuable medical and scientific data along the way.
Track Felix's progress and watch his historic flight at the Red Bull Stratos live YouTube stream.