Hiking Trail App From The North Face
Download of the Day: Trailhead by The North Face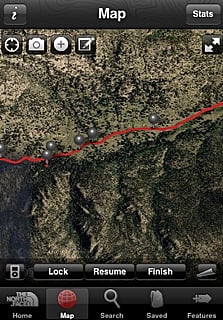 This new iPhone app from camping and outdoor supplier The North Face is to trail mapping what Google Maps is to driving directions. The brand-new Trailhead app (free) finds trails for hiking and bike riding based on your current location. Use the app to search for trails close to you, or search a hike by its distance or the estimated time it'll take to finish. And while you're on the trail, use the app to track your location, elevation, and speed.
For more details on this new app, keep reading.
Additionally, the app is programed to work directly with social networking sites, so you can post your adventure for your Facebook and Twitter contacts to see. The app is powered by EveryTrail.com, a site providing hiking and biking routes while connecting you to other travelers for advice and suggestions. And coming soon to the app: weather forecasts, gear recommendations, and the ability to unlock special deals by completing specific challenges.
Have you found a cool download-worthy treasure you'd like to share with the rest of us? Join the Download of the Day group, where you can submit your favorite downloads, apps, and widgets. Your suggestion could be featured on GeekSugar!