Hip-Hop Artist M.I.A. Wrote a Song About Her Three-Hour Verizon Tech Support Call
M.I.A. Collaborates With Verizon Tech Support For a New Track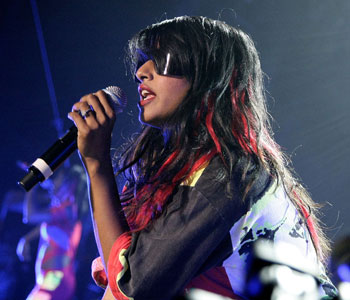 I think we'd all have to agree that spending your afternoon being shuffled through your ISP's tech support is not the ideal way to spend your weekend. Trust me, it's definitely not mine. But if you're hip-hop hustler M.I.A. you might just roll with it, then write a song about it. As she promotes her follow-up to 2007's Kala, M.I.A. told Rolling Stone that one song, called "I'm Down Like Your Internet Connection," was (obviously) inspired by a three-hour Verizon tech support call. Bonus — she somehow got the customer service reps to sing the hook. She says:
I was having issues with my cable and wireless, and I was on the phone [with tech support] for three hours, and I thought, "Maybe this needs to be part of my music, could you just learn these lyrics and sing it down the phone to me?" Ten phone calls later, I have Internet that sticks and a song.
I can't wait to hear it, but I also can't wait for all the parodies to hit YouTube — how does "I'm Down Like Your AT&T Signal" sound?