Historious Search Engine For Bookmarked Content
Use Historious to Search Content You've Already Seen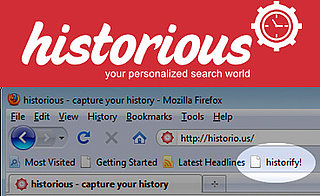 Due to the sheer number of websites and pages flashing across my computer's desktop in a given day, I can't read every single one. Plus, I often read something interesting and want to come back to it days later, whether to write about it, send it to a friend, or just revisit the content. I tend to rely on Firefox's thorough browsing history as a way to find what I'm looking for, but now I'm completely into a new service called Historious.
Find out how it works after the break.
It's simple to use; just drag the bookmark (labeled "historify") to your browser's toolbar. Then, when you see a site or content that you'd like to save, click the bookmarklet to "historify" it, indexing for a special search later. While this is essentially similar to bookmarking sites you'd like to come back to, there's less involved — no tagging, labeling, or moving a bookmark to the right spot, and no gigantic, unmanageable list of bookmarks to deal with. To search your historified sites, just conduct a search on historio.us. It's like a modified Google that only searches within your browsing history. You'll need to register with Historious to use the site, but it requires only a username and your email address to get started.