HitchedPic App
HitchedPic Keeps Everybody on the Same Page (Er, App)
After months of coordinating planning between bridesmaids, groom, and in-laws, you deserve a day where everyone is on the same page. Meet your new partner in digital bliss: HitchedPic (free), an app that creates a custom page for weddings where you can direct guests to share all their photos of your big day, look up essential schedule details, and find venue directions — all in one place.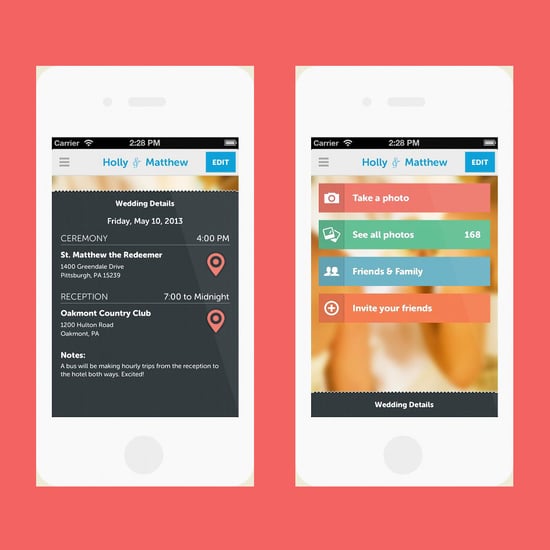 After creating a HitchedPic account, couples receive a unique code, which guests use to download the app and get vital wedding day information, plus share all of their photos with the newlyweds and crosspost those snaps to Facebook, Twitter, and Instagram or send via email. HitchedPic has filters, stickers, and frames built in, so all of your amateur photographers can add that little extra somethin' to their images.
Sharing photos and getting directions on a mobile device comes second nature for most, which is why HitchedPic may be the easiest way to keep your tech-savvy guests in the loop. The only downside? HitchedPic is only available for iOS, so you'll have to get photos from your Android-loving guests the traditional way: e-harassment.