The Hobbit Apps and Extras Online
Get a Dose of The Hobbit — and All Things Tolkien — Online
How can you get enough hobbit after just one (albeit, one three-hour-long) IMAX screening of The Hobbit: An Unexpected Journey? Relive the magic of Middle-earth long after the theater with the following guide to finding more Tolkien entertainment online.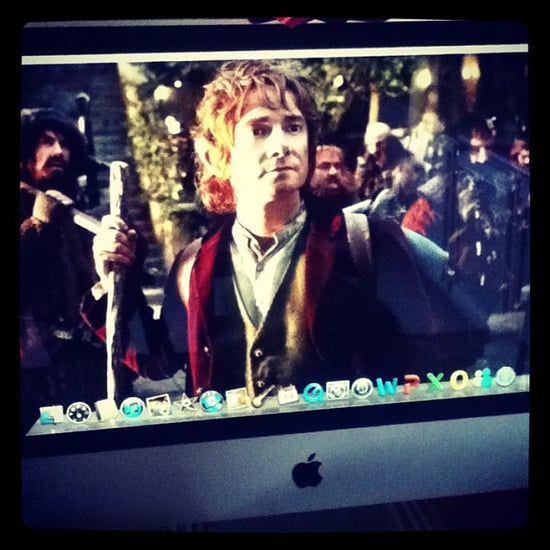 Downloadable Movies
Want a second helping of the characters you already grew to know and love in Peter Jackson's original films on Tolkien's works? Rent or download the movies here:
iTunes — Download the Peter Jackson Lord of the Rings trilogy, which includes The Fellowship of the Ring, The Two Towers, or The Return of the King for $20 or the HD bundle for $45.
Amazon Instant Video — Rent the trilogy for $1 per movie on Amazon Instant Video, or watch the animated 1978 film ($3) on any device with Amazon Instant Video streaming capabilities, including Xbox, PS3, iPad, and Kindle Fire.
Google Play — Watch Elijah Wood as Frodo Baggins in The Fellowship of the Ring for $2 as a rental on Google Play.
Books
Of course, it was J.R.R Tolkien's carefully crafted books that started Middle-earth mania. Start at the beginning with The Hobbit, and then delve deeper into the languages and cultures of the world with the rest of the series.
Kindle — Scroll through the many editions and literary criticisms of Tolkien's works in the Kindle ebook store; most titles are priced below $10.
Nook — For those who prefer the Nook marketplace, the Tolkien books and student study guides range in price from $1 to $15.
Keep reading for hobbit apps on mobile devices.
Apps & Downloads
When you're home from the theater and just can't get enough of the fantasy world, add it to your smartphone or tablet with wallpaper and apps.
Hobbit Movies (free) — Use the iOS app to follow Bilbo Baggins's journey from the Shire to Lonely Mountain through an interactive Middle-earth map. Bask in 360-degree views of the filming locations and early stills from the film, watch the latest production videos, and brush up on important characters.
Wallpaper Generator (free) — The Hobbit: An Unexpected Journey's official website offers customizable image downloads for just about every device, as well as options for Facebook profile photos and Twitter skins.