Holiday Shopping Laptop Giveaway
15 Days of Holiday Giveaways Day 2: Win an HP Envy 14 Beats Edition Laptop!
It's the holiday season, and we're getting in the spirit with our second annual 15 days of amazing giveaways! Every day one of the PopSugar Network sites (plus our sister sites Fashionologie, ShopStyle, and PopSugar's FreshGuide) will feature a new giveaway. In case you missed it, Pop's giving away a $2,500 shopping spree to Shopbop.com. As for GeekSugar, we're giving away a brand-new Envy 14 Beats Edition laptop from our friends at HP!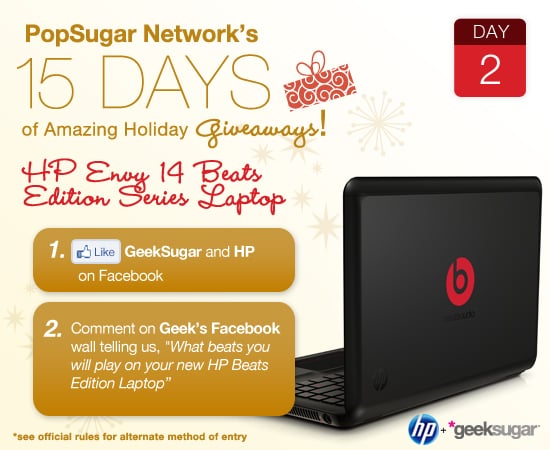 To enter, all you have to do is "Like" GeekSugar and HP on Facebook, and then comment on Geek's Facebook wall telling us what beats you'll play on your new Beats Edition laptop! How easy is that? Check out the official rules here. The HP Envy 14 Beats Edition giveaway is only open for a week, so act now! Also, you won't want to miss any of our other fabulous giveaways, so stay tuned every day and enter them all. Good luck and happy holidays.