Home Theater Setup Ideas
How to Set Up a Private Home Theater, No Matter What Your Budget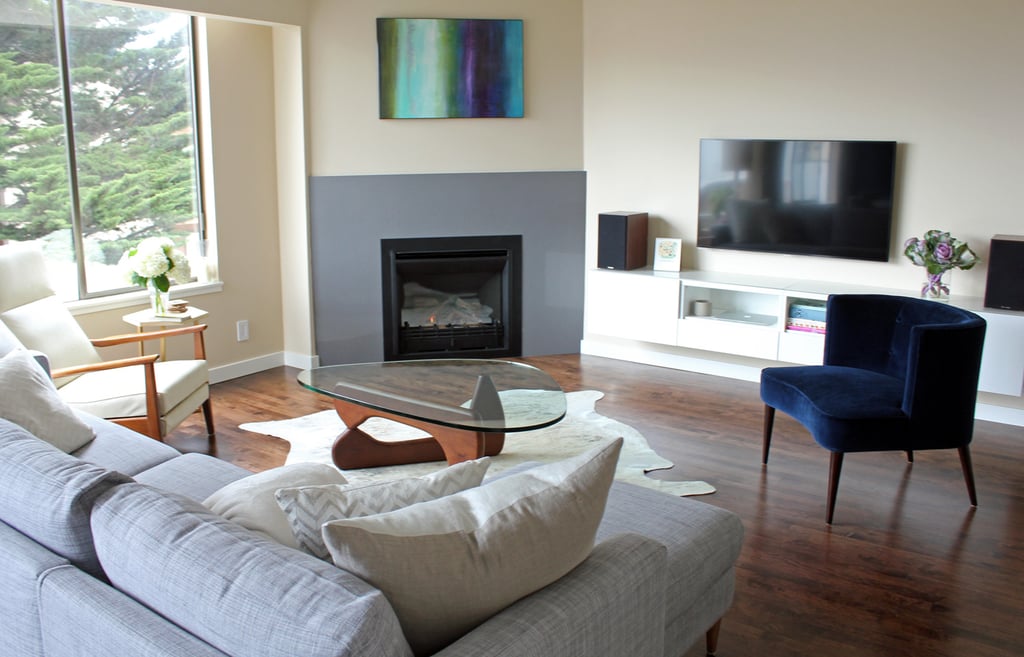 A successful home theater system is a complete audio and visual experience. If you've got a big-screen-display-and-audio set ready to be installed, we'll show you how to set up a state-of-the-art home theater for any viewing party — or, with a little bit of accessorizing, tinkering, and feng shui rearrangement, how to create one with existing equipment.
The Home Theater Trifecta
TV display — You'll need a big screen to watch big events whether that is the year's biggest game or a red carpet bonanza. Large 60-inch 4K TV displays can cost a fortune, but there are solid smaller-size models that don't cost an arm and a leg, like the Samsung Smart LED TV ($350).
Cable or satellite — These days, you don't necessarily need a cable subscription to watch a huge show. Fox Sports will stream the Super Bowl for free — complete with the epic commercials. If you'd rather not stream, you can buy a basic antenna like the RCA Basic Indoor Antenna ($7, originally $10).
Surround sound — A good audio system can make you feel like you're in the audience. Ideally, a surround-sound experience needs two side speakers, two rear speakers, and one center front speaker. You can buy a complete theater sound set from Yamaha ($162) or fashion your own with existing speakers using a male-to-male audio cable, like this one from Mediabridge 3.5mm ($5, originally $15) and with an audio splitter, like the Belkin Splitter ($4).
Location, Location, Location
Choosing the right room can make all the difference. If you're mounting a display above the fireplace, make sure you know about the dangers. Consider these elements while setting up your system.
Floors — Your reclaimed cherry maple-wood flooring is beautiful, but it isn't ideal for sound quality. A room with bare tile or hardwood floors won't have great acoustics, but a large rug will aid in absorbing stray sounds.
Wall placement — The TV should be mounted or placed along the short wall of a rectangular room — and the barer, the better. Windows and doors are portals for sound to travel away from your audience. If you must place the display by a window, heavy curtains should do the trick.
Sound — Pull the seating area toward the center of the room, not against a wall, so that the rear speakers can project toward the viewing party.
Cables — Go easy on these guys. Don't force cables into 90-degree angles, allow them to gently curve in relaxed bends. Also, be wary when stapling audio or video cables to the walls and floors, and only use staples designed for use with a coaxial cable. The wrong staples will cut off circulation. We recommend raceway covers to do the job.
Maintenance
Dust — The enemy! Dust buildup can permanently damage your home electronics. So bust out that microfiber cloth and wipe down your devices as often as you can.
Surge protectors — Your prized home theater is one blackout away from being completely fried. Invest in a surge protector and plug everything (we mean, everything) into the surge-protected power distribution unit.
Space out the tech — Overheating is a common problem for large displays and complex audio systems. Make sure that the audio and video components have some room to breathe. Consult the device's manual if you're not sure how much clearance it needs.
Warranty documents — Most equipment has at least a 30-day warranty, and some high-end devices come with one-year or three-year guarantees. Hang on to these documents and the original boxes (we promise, you're not being a hoarder), because this will save you time and frustration if your equipment shuts down.
Image Source: POPSUGAR Photography / Lisette Mejia