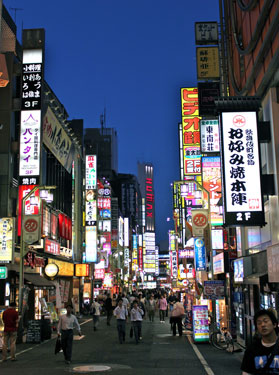 It's no secret that I have a fondness for all things Japan. And if you're into games, tech, and anime culture, Japan is the perfect spot for you and your newly betrothed to spend your honeymoon. After spending two weeks there myself, I can tell you firsthand that stepping off the train into the streets of Tokyo is like arriving home to your mothership — the city itself is alive, breathing, and no matter how tired you are from your cross-continental flight, you just want to go out and discover.
Planning a trip there (not to mention a honeymoon) can be daunting at first, since figuring out the streets, transportation system, and the prefectures (or neighborhoods) is enough to make your head spin. However, once you're there and immersed in the culture, you're not going to want to leave!
Over the next few days, I'll be sharing a few tips on what to see and where to go to satisfy your geeky cravings, along with a few insider hints to take note of before you go. But first, find out when you should schedule your trip, and the best way to get there after the break.
If you've done your research on Japan already, you'll know that the seasons can be pretty extreme — insanely humid in the late Summer (accompanied by downpours and typhoons), while the Winters can see a sprinkling of snow. Spring (April and May especially) seems to be the perfect time to head to Japan, not only because of its mild temps, but because it is the time of year when the famous Cherry Blossom festival takes place. However, this is also the most popular time of year to travel and you could see higher prices on flights and hotels.
Late January and early February, as well as November seem to be the prime months for visiting Japan — flights are cheaper, tourism has slowed for the year, and the weather is dry and sunny. Plus, November brings the changing of the Fall leaves. Spectacular!
As for getting there, using sites like Farecast can give you a hint on the best time to buy your tickets, while buying directly from JAL can render great results — I've found tickets for as little as $700 round-trip! Consider this, though: if you're flying from the West Coast of the US that's a 10-hour flight — you may want to spring for an upgrade to "Premium Economy" or ask for an upgrade upon check-in for even more leg room. You'll still get all the in-flight entertainment, power hookups, and headphone jacks no matter where you sit!
Social sites like Expedia, Travelocity, and TripAdvisor that offer user reviews can be invaluable tools to finding a nice and inexpensive hotel. Search all of them to get a good consensus if the hotel is right for you. I've had previous experience booking Japanese hotels through Orbitz and had no problems with my reservation or check-in.
Now you know when to go, and how to go about getting there. Next up? What to see once you're there!
Source: Flickr user neenio