HoodieBuddie Earbud Sweatshirt
HoodieBuddie: A Groovy Kind of Love
Picking out a pair of earbuds is a task in and of itself, especially with many different options begging for your attention. But what if you could get an awesome pair of earbuds just by buying a comfy cozy hoodie? That's exactly what you get with a HoodieBuddie ($44) — a hoodie with built-in earbuds that will keep you rocking and rolling on your way to the gym, out with your pals, or just when you're doing some housework. I should know, I tried one.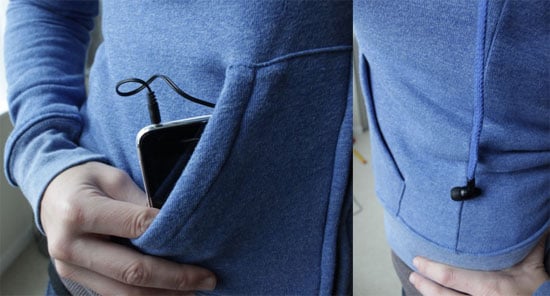 The HoodieBuddie comes stocked with a pair of incognito earbuds that runs from the pocket of your hoodie to the tips of the drawstrings. This enables you to listen to your tunes just by plugging in your MP3 player, iPod, or iPhone into the 35mm jack in the pocket, and have fresh, untangled earbuds at your fingertips. Best part? The whole she-bang is machine washable, so you can toss the HoodieBuddie into the wash on laundry day, and not worry about funking up the innards.
Want to know how they perform? Find out after the break.
It's easy to pass off the HoodieBuddie as a novelty item, but after wearing one in various situations I can honestly say that it's nothing of the sort. I was genuinely surprised and pleased with the quality of the earbuds inside the hoodie's drawstrings, and took comfort in the fact that I could toss it in the wash after a long and sweaty run. As lots of you know, it can be frustrating to find in-ear headphones that stay put with small ears, but the buds on the HoodieBuddie stayed put and were quite comfy. Plus, it comes with an extra pair of earbud covers in case you happen to lose one on the road (or inside the depths of your washing machine).
Overall, I'd say the $44 price on the HoodieBuddie is a steal (since you're likely to pay just as much for a pair of quality earbuds alone), and I'd gladly hand over the cash for a Hoodie of a different color. The only downside? I'm pretty sure I got a few sideways glances from folks on the train wondering why I have drawstrings stuck in my ears.
It's worth mentioning that I also got to try on similar hoodies from InSound ($59), HoodieBuddie's sister line, which is sold at Metropark stores. Some of its pieces are reversible, and are made with the same quality earbuds and attention to detail as the HoodieBuddie and are just as comfy and stylish.