HotelTonight iPhone App Review
HotelTonight: Cool Rooms at Hot Prices
I love to travel, so if there's ever a way for me to take a last-minute jaunt away from home, I'm in. Thankfully there's a new app in town that can make booking a last-minute hotel room a breeze. Called HotelTonight (Free) this app offers up stylish hotel rooms at low prices. Booking right through the app, you won't have to call, email, or bust out any other gadgets to reserve your room. HotelTonight gifted me with $200 in credits to check out the app myself, and below, you'll learn more about how it works along with how my staycation went last weekend.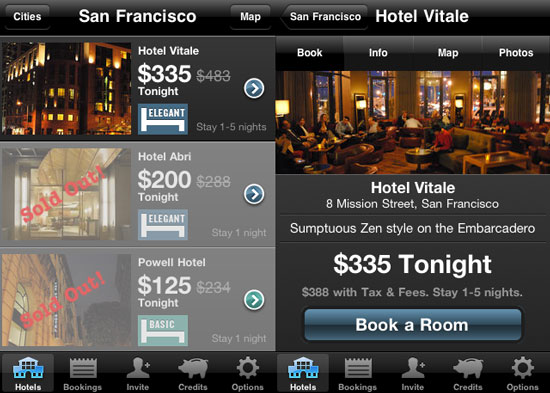 How It Works
The budget-minded staff at HotelTonight partner up with hip, classy, and affordable hotels in each available city to offer great rates for last-minute bookings. The app gives you three hotel options per night starting at 12 p.m., and you have until the offers close at 2 a.m. to book the room and secure the deal.
Reserving a Room
Grabbing a room couldn't be easier. Just fire up the app, take a tour of the three available hotels (hotel pages include parking, room service, and amenity info, along with a map and photos), and once you've made your decision just click the "Book a Room" button on your hotel of choice. If it's your first time, you'll be asked to put in your credit card information, and HotelTonight will automatically factor in any credits you've accumulated (you get $25 in credits just for signing up, and more if you refer a friend), and charge your card accordingly. I used it myself over the past weekend and found it super easy to book a room and I got two confirmations sent to me — one via email, and one stored inside the app.
Continue reading about my experience with HotelTonight (including a few hiccups I experienced along the way) after the break.
Checking In
While booking a room was easy as pie, checking in was slightly more complicated. Upon check-in, you'll be asked to present a card for incidentals, which is totally normal. But unfortunately, the hotel I was checking in to also tried to charge my credit card for the entire night's stay. See, I had already paid for the discounted room rate on HotelTonight, so essentially I was being charged twice. After a little back and forth with the front desk agent, and a quick call to HotelTonight customer service, we got it straightened out. See, HotelTonight sends a booking reservation email to the hotel directly, letting them know that the room has been paid in full. Somehow this email was misplaced on this occasion, which makes me think that the HotelTonight-hotel relationship has some bugs to work out before the system "just works."
Pros and Cons
Pros
You'll never have to call around to multiple hotels to find the best rate again.
Hotels offered are nice, clean, and come with good ratings.
Your credit card is stored so you don't have to fish around in your bag. Just choose and go.
You get $25 in sign-up credits to use toward your first room, and for every friend you refer that books on HotelTonight, you earn more credits.
Customer service is available 24/7.
Available in a number of major cities, and growing rapidly. Currently HotelTonight is available in Anaheim, Atlanta, Boston, Chicago, Dallas, Denver, LA, Las Vegas, Miami, New Orleans, NYC, Orlando, Philadelphia, Phoenix, San Diego, San Francisco, Seattle, and Washington DC.
Cons
Only three hotels to choose from per night, and you can't guarantee a bed type.
It's new, so there are some kinks to work out between HotelTonight and the hotels. See the "checking in" section above.
Rooms sell out quickly!
Tips For Success
Overall, my experience with HotelTonight was really positive. The app can be extremely helpful in those situations where you can't make it home, have an impromptu guest, or just want to take advantage of your area for a staycation. Though there are lots of travel apps available for the iPhone (Travelocity, Priceline, HipMunk), HotelTonight seemed to be more streamlined and hip. Plus, there's something to be said for fewer options from which to choose;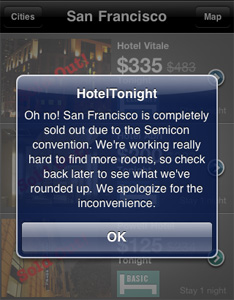 Only giving users three, fully-vetted and well-rated hotels per night (in cool categories like "Hip" "Classic" "Eco" "Basic" and "Elegant") helps to make the purchasing decision much easier. I did find, however, that although HotelTonight says there are only three hotel options per day, what they really mean is three hotel options at a time. I checked the rooms right after they were made available at 12 p.m. last weekend, and by 3 p.m. there were one or two new ones available with lower prices. If you're a risk-taker, it might behoove you to wait until the last minute to see if something with a smaller price tag pops up. Of course, if there's ever a situation where all of the available rooms are sold out, you can check back later to see what other kinds of deals HotelTonight is offering.
Have you used HotelTonight? What did you think?