Hotmail Alias Accounts
Hotmail Gives You a Few Spare Email Addresses
How many email addresses do you have? I have about five. My main email account for family and friends, one for newsletters and junk, an oldie I keep around for long-time friends, and a few others I use for professional reasons. Having all these email accounts is good for keeping spam out of my main inbox but can prove to be tricky when I forget the log-in info.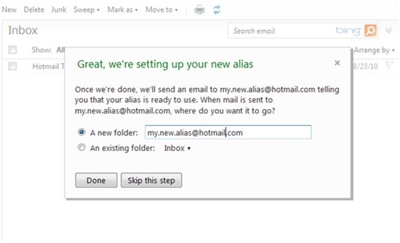 This dilemma is now a thing of the past for Hotmail users, since Microsoft launched alias accounts, which allow you to compartmentalize your digital life without needing to remember multiple sign-ins; you can access them all from your main Hotmail account. Find out more, including how many aliases you can have at once after the jump.
Microsoft will allow up to five alias accounts for each Hotmail user, slowly increasing that number to 15 network-wide, and you can delete and replace those addresses as many times as you wish. This seems like a pretty handy tool, especially if you're in the dating scene — it's like giving some weirdo a false phone number, only you won't have to listen to his voice mails. In a way, this is similar to Google's single sign-on feature and will make it easier on the large number of us that create separate emails for every aspect of our lives: work, play, personal, and the "junk" account.