Hotmail Email Moves to Outlook.com
Hotmail Users Now Get the Outlook.com Experience
Though just announced July 2012, Microsoft's new non-Hotmail email service, Outlook.com, has already grown to 60 million users and is ready for the wild world of nonbeta. Beginning today and progressing over the next several weeks, Hotmail's current hundreds of millions users will start to see their email experience switch to Outlook's web-based email platform. Hotmail addresses won't be changing, but what will be is the way Hotmailers interact with email.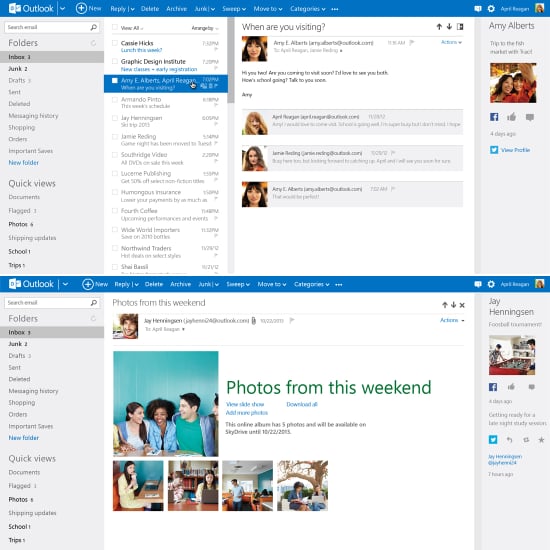 From a solution to "sweep" out inbox clutter to social-media syncing, read on for what to expect in the new Hotmail/Outlook.com look.
Sweep — Microsoft claims that 50 percent of the typical inbox is newsletters, all those daily deals, app updates, and everything else you once signed up for thinking you would read it. Now it's clogging up your email account, preventing you from ever getting to the magical inbox zero. Sweep is a filter system that can be used to banish certain newsletters for good or to only see the most recent email from a common sender (and delete the old), or for tasks as simple as filtering all your mom's emails into one folder.
Social Media — Connect an Outlook.com account to your social-media accounts, and instantly import friends' data to the email provider, including details like job title as provided from LinkedIn. When viewing an email chain from a contact you're connected to on social platforms, you can see their most recent status or tweet.
Microsoft Office — For those who could never get their family onto Google Docs, Outlook.com now offers access to a free web version of the Office software Word, PowerPoint, and Excel.
Fewer Ads — What Microsoft says sets it apart from a certain web email provider (you know, the fan of primary colors and doodles) is that coding bots will never scan your private messages for the opportunity to direct ads on the platform. Ads are based on the general demographic information provided at registration, though users can opt out of targeted ads completely.
SkyDrive — Like Office 365, Outlook.com comes with 7GB of free storage on SkyDrive, Microsoft's cloud-based storage system. Rather than sending large files via email, Outlook will, when it sees you trying to attach a song file to an email, for example, prompt you to instead keep your inbox data low and send that file as a SkyDrive link, which only your recipient can see.
Have you tried the new Outlook.com? Share your experiences with the service in the comments.