How to Bicycle Safely
The Future of Safe Bicycling Technology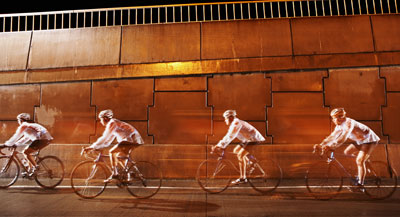 Bicycling on busy city streets can be an intimidating prospect. Dealing with fast-moving cars is stressful enough without counting the physical energy needed to stop and start at stoplights. In efforts to make sharing the road safer for cars and cyclists, Pleasanton, CA, a city of about 70,000, recently installed microwave motion sensor technology at several intersections throughout town.
The device, called an Intersector, monitors traffic in the intersection and can differentiate between vehicles and bicyclists in the street. The Intersector will extend or activate the green light if a cyclist is detected whereas, in many towns, the cyclist may have to activate the crosswalk signal manually.
While Pleasanton is the only city in the country currently using the motion sensor technology, the cycling community is inventing new ideas and technologies to stay safe on the roads. For more cycling safeguard prototypes, follow the break.
Project Aura — Two Carnegie Mellon industrial design students created LCD lights that sit within the rims and alternate between white lights when cruising on streets to red when slowing down. The project is still a prototype but with recent design community recognition, we hope to see the lighting system on the market soon.
Blink Bike Helmet — This design concept gives cyclists car-turn signals on the back of their helmet. The signals would be activated by touching the helmet, though our dream is a similar design with handlebar activation.
SenseTech HALO — Created by Biju Thomas, a cyclist and chef for professional cycling teams, the SenseTech HALO helmet, currently preparing for beta testing, uses a wireless device to send a Bluetooth signal via smartphone to medical services if a significant impact is detected within the fabric sensors of the helmet. Since cycling can often be a solo activity, this may help get swift emergency attention when needed most.
How do you stay safe while cycling on city streets?