How to Break a Video Game Addiction
Game Over: Video Game Addiction Blamed For 15 Percent of Divorces
As if your obsessive Facebook habits weren't enough, a recent study performed by Divorce Online shows that 15 percent of divorces are due to a video game addiction; that's up from 5 percent the year before. Which games are causing the most trouble in marriages?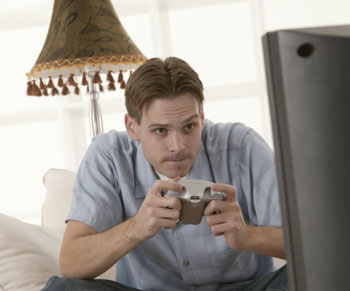 Titles like World of Warcraft, Call of Duty, and Halo were cited most often, but casual Facebook games were also a sore spot in rocky unions. What's worse, symptoms of a video game addiction can be similar to those of a drug or gambling addiction. If it sounds scary, it's because it is — seclusion, obsessive behavior, sudden weight loss or gain, lack of personal hygiene, sleep deprivation, and even child neglect can not only cause problems at home, but in professional lives and legal arenas as well.
But there is hope! Get a few tips on how to keep the love alive (and your partner safe) after the break.
Set limits — Work with your partner to find a good time (and a time limit) to play his favorite game. Make a list of things he should do first before sitting down to play (like walk the dog, take out the garbage, eat, shower, etc.), and slowly cut down on the amount of time he plays during each session. Like anything else, quitting cold turkey won't work, so be patient and work together.
Find an alternative — Instead of indulging in hours and hours of WoW directly after work, you could start new habits with your partner. Take a walk to the park on Tuesdays, go to the gym on Thursdays, read five chapters of a book on Mondays, take a class on Wednesdays, or sit down for dinner together every night. Make sure these are things you do on a regular basis to keep your partner away from the console and engaged in life. Habits take a while to form, so don't get discouraged if there are a few slipups!
Seek help — If things are really out of hand, you can seek help through the Online Gamers Anonymous and the reSTART program for Internet addiction, or ask your doctor for treatment options in your area.