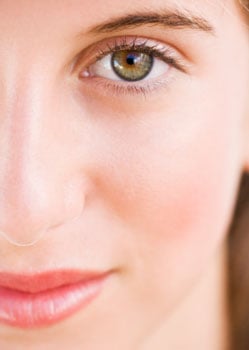 Get ready for the barrage of Kodak moments and impromptu family portrait sessions during the coming holiday season. The joy of technology lets us change even less-than-flattering pictures into a worthy keepsake. There's a simple tool you can use in Photoshop to make your face look clear and bright in your own photos, even when person behind the camera forgets to adjust the lens to ideal settings.
Sure, while excessive airbrushing in order to sell products is bad, zapping that zit from a nice family photo is totally legit. If you have basic knowledge of Photoshop, this tutorial should be easy to follow. Check out my steps to using the clone tool after the break.
First, you'll want to choose a photo to be touched up. Drag that image into Photoshop to begin!
Zoom into your "problem area" in order to make the blemish more visible and easier to work with. You can do this by hitting Command and the + button, selecting View > Zoom In, or increasing the percentage at the bottom left hand side of your image.
Select the Clone tool.
Make sure your clone tool is the same size as the blemish you want to cover up. At the top toolbar, you can adjust the size of the clone tool, and I recommend using a feathered brush for nice and soft results.
Since the purpose of the clone tool is to essentially copy and paste a patch of good skin over a patch of not-so-good skin, you should choose to clone an area that is close to the blemish in order to match up skin tone and lighting. Click Option to "copy" a section of the photo, then simply click your mouse to "paste" it over the blemish.
Pro tip: The clone tool works best in this case when you simply click once rather than clicking and dragging, as you may find that your image gets pixelated and fuzzy. If this is the case, you can always revert back a step and start again.
That's it! It doesn't take a ton of work to touch up your pics, and you can even use this method for covering up dark under eye circles and whitening teeth.