How to Download Facebook Data
How to Access Every Last Bit of Your Facebook Data
After years of regularly uploading photo albums and writing on Timelines, your Facebook history is extensive. And since the publicly traded company makes a good deal of its money from selling the details of your interactions on the site to marketers, it's only fair you should see exactly what sort of profitable material you've stored on the Facebook servers.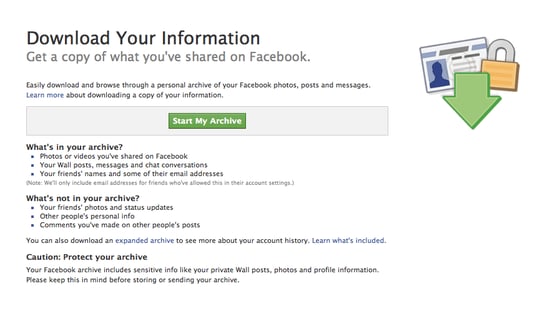 Get ready for an information dump, because there's a lot of content you've amassed on Facebook, and it's all accessible through various routes. Facebook categorizes users data three ways: Downloaded Info, Expanded Archive, and Activity Log, and each one holds different data.
Keep reading for step-by-step directions on how to download your Facebook data and a breakdown of what you'll find in each category.
Downloaded Info
This is where you'll find the basics: a copy of your Timeline and all the content ever posted to it, your friend list, sent and received messages, RSVP'd events with the events' details included, and all photos and videos uploaded to your account. Follow these steps to download the files:
Click the account menu, the downward-pointing arrow next to the word Home on the upper right corner of any Facebook page. Select "Download a copy of your Facebook data," which will then begin to populate once your password is entered. In my experience, it took about an hour from the moment I requested the information to receive an email from Facebook that my report was ready.
Expanded Archive
Here's where you'll find the nitty gritty details that have amassed in your Facebook archive. All those daily log-ins, multiple times a day are recorded in the Expanded Archive, including the IP addresses for both log-ins and log-outs of your account. Rediscover apps, pages, and friends you've hidden from your News Feed or even the long-lost art of the Poke, as this report includes a record of who you've Poked and any received Pokes.
Activity Log
Though the Downloaded Info and Expanded Archive reports include both the forgotten details of your Facebook activity and the easily accessible Timeline basics, the instantly available Activity Log yields just as much data as the reports, if not more, since it details your everyday, casual interaction with Facebook and third-party sites that use Facebook plug-ins. Find every page you've liked, comment on a friend's photo, and even see the times you clicked Like off of Facebook.
One of the most surprising finds in the Activity Log? Searches. Every time you've searched for a friend of a friend, a crush, a potential employer — anything — it's all listed for your eyes only in your personal Activity Log.
Get to your Activity Log on your Timeline page by clicking the Activity Log button underneath the cover photo. On the next page, explore your log in the drop-down menu on the right side of the page titled Posts and Apps.
Have you ever downloaded a copy of your Facebook Data? If so, did you find the information useful?