Your web posts are now complete, 'grammers! Instagram photos and videos can be embedded around the web, the company announced on Wednesday. Until now, those who wanted to embed photos or new Instagram videos had to use a workaround of HTML coding to include the media of choice within a website.
At the time of Instagram's video announcement, a company representative told us it "will consider what embedding means to the service and user experience." And it seems users made it clear embeds are important to their experience and sharing their work across the Internet, as Instagram wrote in its blog today, "You own your photos and videos, and we want to make sure that's understood no matter where your content appears." If your account is private, Instagram assures that unauthorized eyes won't see your photos, as the embed code is only available to those with settings are set to public.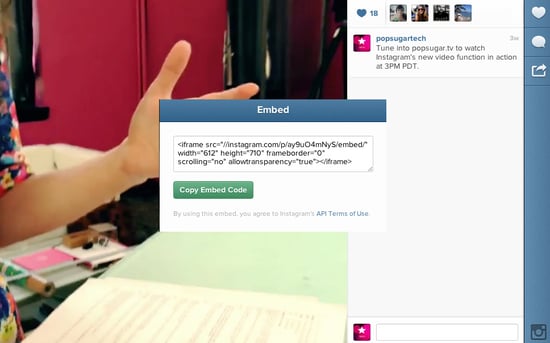 To embed Instagram photo and videos (from your account or a friend's), view a photo or video from the Instagram site on a desktop browser and click the share icon found below the comment bubble image. A pop-up window will appear with the embed code for sharing on a website.
The embedded image (the first photo above) clearly shows the user's Instagram name and includes a link to the profile page. Unlike Twitter embeds offering retweets and replies, you won't be able to like or comment directly in the embedded image, rather click on to the Instagram URL to interact with a friend's photo.
An example of embedded Instagram video after the break.