How to Erase World Cup Horn Sounds from 2010 World Cup
How-To: Drown Out the Vuvuzela the Easy Way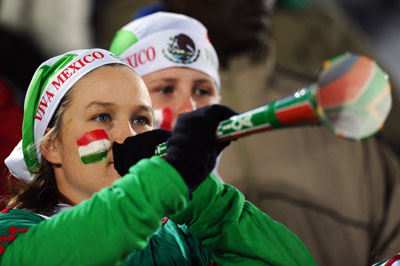 The Vuvuzela. You either hate it, or you really hate it. So instead of suffering through the rest of the World Cup with that buzzing in your ear, take action! You can download some software or purchase a (warning: poorly-rated) $3.50 filter to drown out the drone of the horn, or you can take a simpler approach — adjust the levels on your TV and sound system.
A recent story in Consumer Reports offers up a few ways to eliminate nearly all vuvuzela sounds just by making a few adjustments on your home theater equipment. Find out what they are after the break.
First, try turning your TV's treble all the way down. This won't totally erase all horn sounds, but it at least will make things tolerable during your most important matches.
If you have a surround sound system at home, try this method: From your sound system menu, lower the volume of the left and right speakers, while boosting the sound coming from the center. This will both drown out crowd noises (from left and right), and make the commentators more audible (from the front).