How to Fix the iPad WiFi Connectivity Problems
Apple Knows iPad's WiFi Has Issues, Offers Up Some Solutions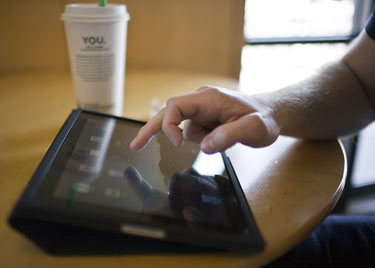 It seems that overheating in the sun isn't the iPad's only issue — users are complaining of WiFi connectivity issues that generally occur after the iPad has gone to sleep and won't automatically reconnect to a known WiFi signal upon waking. If you are experiencing these problems as well, Apple has posted some suggestions on how to fix it on its forum page, which outline that the issues could be with your router or network settings.
If you're finding that your iPad doesn't always rejoin your WiFi network after waking or powering on, see what Apple suggests you do to remedy the problem after the break.
If you're using a third-party router and are either using the same name for each network or using different security settings for each WiFi network, you can try the following:
Create separate WiFi network names to identify each band. This can be done easily by appending one or more characters to the current network name. Example: Add a G to the 802.11b/g network name and an N to the 802.11n network name.
Ensure that both networks use the same security type (WEP, WPA, WPA2, and so on).
If the issue persists, reset your network settings using Settings > General > Reset > Reset Network Settings.
Always ensure that your WiFi router firmware is up to date.