How Many Facebook Friends Are Too Many?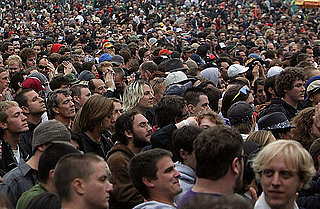 It's a very public number, one that you probably share with hundreds of people, and even the subject of TV ridicule. It's a number that could make you feel good or bad about yourself, or you may not care about it at all. No, I'm not talking about the number of sexual partners you've had, I'm talking about the number of friends you have on Facebook. But how many is too many? The New York Times recently posed the same question with a few answers. Find out where one Oxford professor draws the line after the break.
According to one Oxford professor's theory, the number of actual friendships a person can maintain is restricted by the human brain — and he quotes that number at 150. Facebook, on the other hand, allows for 5,000 "friends" for an individual account. I try hard to impose rules about whom I'll add as a friend (remember the whole "should I friend my boyfriend's sister" debacle?), so I have under 300 friends. And I have to admit, whenever I see someone with 1,000 or more friends, I get a little skeptical. I haven't run across any close friends who've hit their 5,000 Facebook limit, but with all of the crazy privacy controversies and changes, I'm afraid to have more Facebook friends than I already do. How many friends do you think is too many?