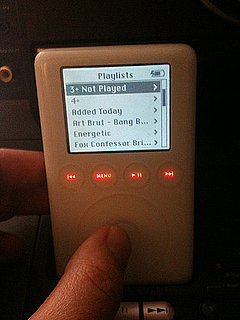 The iPod has come a long way since it was first introduced in 2001; it now comes in four different versions, sporting over six times the amount of storage as the original. According to Steve Jobs, 275 million iPods have been sold to date, and yesterday's announcement of three majorly updated models is sure to move even more new iPods off of the shelves.
I'm lusting over a new Nano — that tiny touchscreen is amazing — and absolutely plan to pick one up next week. So, I started thinking . . . how many iPods have I actually owned? My final count is after the break.
I owned a third-generation iPod (the one with the four buttons), a fifth-generation iPod (color screen, click wheel, photo capability), an orange fourth-generation Nano, and four Shuffles — one first gen, two second gen, and a third gen. So, that equals a grand total of seven iPods, with intent to purchase my eighth! What's your count?
Source: Flickr User cote