How to Publish Your Own Ebook on Amazon, Barnes and Noble, iTunes iBookstore
How to Publish Your Own Ebook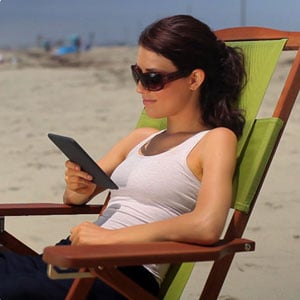 Ebook bestsellers were recently added to the NYT Book Review, and sales are up in a big way. It just goes to show that if you've got an awesome manuscript, you don't have to wait for a publisher to pick it up — you can self publish! Find out how you can get your ebooks on Kindles, Nooks, iPads, and mobile devices all around the world with the outlets below.
Barnes & Noble PubIt! — Easily publish your own books through the Barnes & Noble ebook store with PubIt! Just upload your files, and PubIt! converts it to an easy to read format that can be bought and downloaded to your Nook or other B&N apps, like the iPhone, iPad, Mac, and PC. Royalty rates range from 40 percent (for any book priced under $2.98 or over $10) to 65 percent (for any book priced between $2.99 and $9.99).
Amazon Kindle Store — Get your book sold in Amazon's Kindle store and nab royalty rates of 35 to 70 percent of sale prices. The Kindle Direct Publishing program accepts Word, zipped HTML, PDF's, ePub, and plain text files, and makes your book available on the Kindle, as well as other Amazon apps for the iPhone, iPad, iPod Touch, Mac, PC, BlackBerry, and Android devices.
But wait, there's more — see the rest of your options after the jump.
iTunes Connect — Get your novel stocked in the iBookstore shelves with the iTunes Connect portal, which has you go through an approval process before distribution is allowed. Manuscripts should be in ePub format for easy uploading, and you'll need an iTunes account to get started.
LuLu — You can also get your ebook into the iBookstore through Lulu, and sell it in Lulu's Marketplace. Going this way will only get you BookBrewer — Quite possibly the simplest option, the BookBrewer app allows you to simply upload your cover, enter a description of your book, and copy and paste your text into the formatting template, then distributes your ebook to several online retailers like Borders, Barnes & Noble, and Amazon for an up-front fee and small cut of your royalties.