How to Recycle or Donate Old Laptops
What Do You Do With an Old Laptop?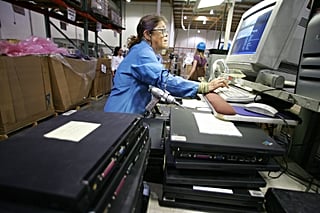 There are many tech treats that were on holiday wish lists recently, and if you now have that fancy new Macbook Air or tablet in your hands, you may now be faced with a dilemma: what to do with your old laptop?
The pace of technology can make it seem like your old machine is obsolete, but sometimes donating it is the perfect solution; non-profits can use a working laptop by either selling it or using it for daily operations. No matter if you're recycling your laptop along with your old phone or donating it, check out a few tips before you say goodbye to it — and let me know what you plan on doing with your new one, if you were so lucky — after the break.
Do your research. Make sure you are donating or recycling with a reputable operation. Check out recycles.org in order to be anonymously matched with a charity looking for your specific type of laptop, or search online for a recycling point near you.
Erase it! This is the most important thing you can do with old laptops or computers that you are giving away. Run a program that wipes your hard drive clean before you pack it up, or try out some of these tips for securely deleting your info.
Do some clean up. If you are donating to a charity, take a few minutes to wipe down your laptop's monitor and keys. The extra time you take to clean off all those fingerprints and crumbs will be much appreciated!
Were you lucky enough to receive a shiny new notebook for the holidays? What did you get, and what will you be doing with your old one?