Gosh, 2012 came and went, didn't it? Take a look back with Twitter and Facebook tools that package the best that 2012 had to offer on social media.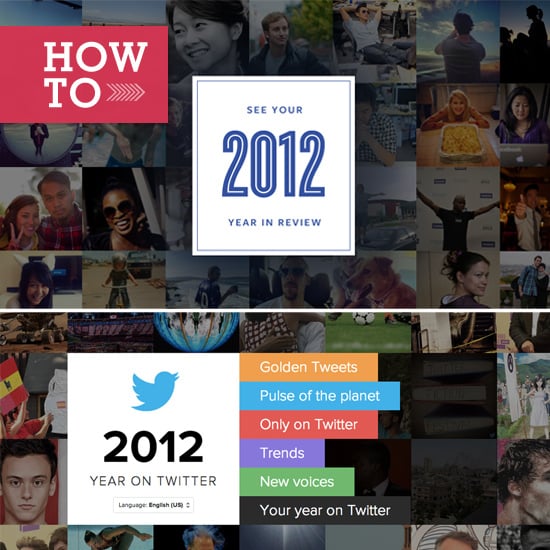 Twitter teamed up with Vizify to rank your most-tweeted phrases, with an interactive timeline that shows which tweet mentioned those hot topics chronologically. You can see your most popular tweets and the biggest trends all over the world, too.
Look back at your Facebook year after the break.
Continue your digital rewind with Facebook's new Year in Review feature, which shows your top moments of 2012 in a constantly changing photo collage and a curated Timeline.
Reminisce on your most-engaged posts, life events, and birthday greetings by signing into Facebook and going to facebook.com/yearinreview. Share what you see, or look at your friends' top moments of the year by adding their custom URL. For example: facebook.com/yearinreview/friend'sURL.
Your friends may not have a custom Facebook username set up, in which case you'll need to go to their profile, look at the URL after /profile.php?id=, and copy the string of numbers following the equal sign. Paste the numbers into the year in review URL, for example: facebook.com/yearinreview/12345678.
Unfortunately, you won't be able to see Pages, like GeekSugar's, only Profiles, and only Profiles of people who you are friends with.