Twitter began rolling out a new feature recently that allows users to receive direct messages from any follower — rather than requiring users to follow each other. While the ability to send a private message to any Twitter user is convenient, it could be an open invitation for spam bots.
To opt in, click on the gear icon on the top right corner and select Settings. In the "Account" tab under "Content," you should see a checkbox for "Receive direct messages from any follower." Select the box and save changes if you wish to receive direct messages from any follower. Twitter is still rolling out this option to users, so you may not see the setting yet.
Enabling this feature would allow companies to contact you privately for customer service issues without having to follow you back. Recruiters would also be able to message you about potential jobs without you having to follow them back. But turning on private messaging for any follower can also invite spam.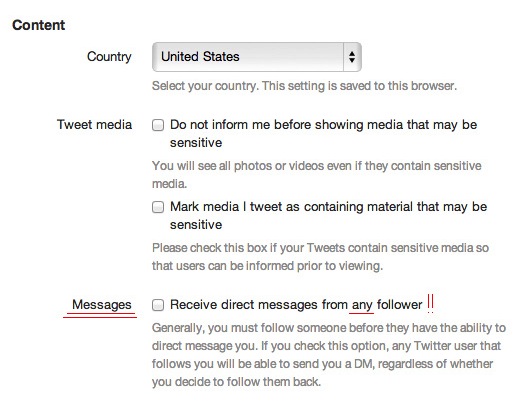 You may have seen direct messages that begin "I recommend" that are followed by an unrecognizable URL. Other messages read something like, "Have you seen this photo of you on Facebook?" These types of DMs are spam, and you should not click through. Notify the user immediately that their Twitter account has been hacked, and they should change their password as soon as possible.
To send a direct message on Twitter, click on the drop-down message next to the "Follow" button and select "Send a Direct Message." You can access all of your message conversations by clicking on the Gear icon and selecting "Direct Messages." Alternatively, if you have an individual tweet open (like this one), you can just hit the letter "m" on your keyboard and a Direct Messages window will appear.