How to Set Up Parental Controls on Your Mac and PC
How to Keep Your Kids Safe on the Internet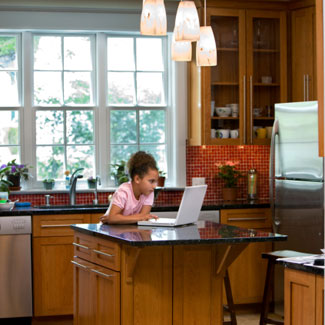 I'm not a mom yet myself, but I've seen first hand how tricky it is for parents when their kids first start getting online. Your little ones are growing up in the age of tech, so it's no wonder they are surfing the Internet at a younger age, but are they doing it safely? According to a new study, 69 percent of parents are worried about online interactions like contact from strangers, displaying of geo-location data, and cyberbullying, yet only 32 percent of parents actually monitor their children's social media and Internet usage.
If you haven't set up any parental controls, rules, or safeguards for your kids' surfing sessions, I suggest you check out these high-level tips for keeping your kids safe online without the need for stressful and expensive software. Oh, and don't let them browse too long — they could get addicted.
Talk about Internet safety — When your children are old enough to take the wheel on the world wide web, it's time to have "the talk." Discussing what is appropriate Internet behavior for your household is paramount, case if you don't tell your kids what is OK to look at, they'll look at everything, right? Maybe even go so far as to post a list of Internet dos and don'ts at the family computer desk (which should be in view of a common area at all times to prevent sneak surfing) to remind the little ones of the rules.
Enable parental controls — Enabling parental controls on your Mac couldn't get any easier (System Preferences > Parental Controls), and a PC isn't difficult either (Control Panel > Internet Options > Content). But you do need to take the time to actually establish your parental control guidelines, which could take some time, but it's worth it to keep your kids safe and happy online.
See some other tips, and leave your own after the break.
Practice safe surfing — Sit with your kids while they surf the Internet, maybe even show them how you use it. Visit your Facebook pages together (hopefully they're at least 13 if they have a Facebook account!), browse their favorite online games, and help them decide what is appropriate. Setting a good example will show them that while there are a lot of scary things online, you can navigate it safely.
Enable browser extensions — Firefox, Chrome, and Safari all offer great extensions, and there are plenty out there that help your kids surf safely and responsibly. Just search "parental control" in any of these add-on stores and you'll find a number of extensions that block sites, password protect, and keep credit card info away from your connection.
Parents: do you have a few tried and true Internet safety tips of your own? Share them with us in the comments!