How to Stream Online Video
A Streaming Media Customer's Guide
Walmart announced today its streaming media service, VUDU. The company bought VUDU in 2010 and has finally integrated the HD digital media rental company into the Walmart website.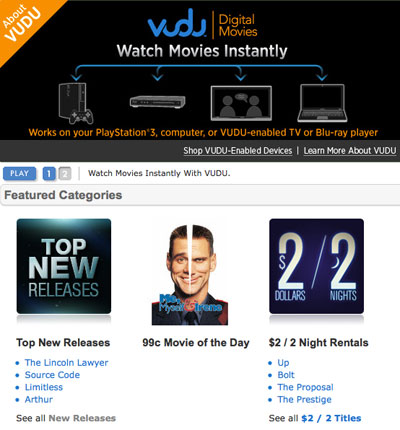 The service is accessible through the VUDU page on Walmart's website or from VUDU-enabled devices like certain HDTVs, Blu-ray players, or PlayStation 3. Customers do not sign up for a subscription, but rather pay per film viewing. Rentals begin at $3, with new releases starting at $4 and higher for HD-quality streams; many movies can be purchased for unlimited viewing for $15.
With companies like Walmart racing to produce popular streaming video service, customers have a wide range of products and pricing plans to choose from, including the following:
Netflix — With access via gaming consoles, TVs, iPhones, and Android smartphones in addition to computers, the popular classic doesn't look to be going anywhere despite the competition and controversial new pricing structure.
Hulu Plus — The $8 monthly subscription fee for Hulu Plus allows access to the most current episodes of TV shows and has an even larger catalog of movies available than its free Hulu counterpart. Available via iOS, Android, select gaming consoles, Samsung TVs and computer systems.
Blockbuster Total Access — Pricing models give customers the option to rent DVDs for home delivery with a subscription plan for $10 or $15, choose to rent DVD without subscriptions, or stream films online on demand.
For those who love the freedom of choice, check out more streaming options after the break.
Epix — A joint venture between movie studios Viacom, Paramount, Metro-Goldwyn-Mayer Studios, and Lionsgate, Epix offers 150 movies, though it can only be accessed through an existing cable subscription.
Amazon — The online retailer recently signed an agreement with CBS making shows like Star Trek and The Tudors available instantly on the site. Over 8,000 video titles are available instantly via Amazon for a fee.
Comcast — The cable provider's Xfinity iOS app for iPods, iPhones, and iPads gives customers who already subscribe to Comcast cable mobile access to over 6,000 hours of video.
Facebook — Though currently limited to select options like Doctor Who episodes and The Dark Knight, we'll stay tuned for more streaming developments from the social network in the future.
What's your favorite source for movies and TV episodes?